Why Kingdom Business Coaching? – We help businesses transition to the joy and prosperity of a Kingdom business culture by leveraging their unique purposes to ignite staff and customers. The conversation begins when you discover what God wrote in your heart – a purpose profile that drives your business. We merge the corporate culture with financial performance from sound business practices. Cash flow comes from a well-motivated, engaged staff and a wisely managed business built on a purpose already written in hearts. We have the resources to help you shift your corporate culture and respond to business challenges practically and effectively.
How to Grow Your Business – Historically, businesses scaled profit and became viable by scaling productivity. In the industrial age, that meant adding assembly lines, buying larger machines, enlarging processes, or buying other businesses. Scaling the people meant hiring, training, standards, procedures, sales scripts, KPI's, and middle managers to monitor compliance. Management viewed people as machinery, resulting in apathy, attrition, turnover, and unions. Industrial-age capitalism, whose only goal was increased shareholder returns, is no longer socially responsible. That business model is fading, and a new version of Kingdom Capitalism is emerging. Covid accelerated the transition.
Kingdom businesses have the same process scaling issues with a different value system for personnel. Instead of merely scaling their productivity and compliance, they scale hearts to increase purpose, satisfaction, and significance, leading to voluntary contributions and initiative. Let me show you how.
Sharing Business Purpose – A Kingdom company has a calling or purpose that is clearly understood. People are engaged to make it happen. They find a higher purpose and opportunities for significance. Metrics for operations and shareholder returns continue, but the priorities shift to our role in another reformation of people, businesses, cities, and nations.

Share Individual Purpose – People carry a God-given purpose in the desires of their hearts. Kingdom business culture aims to understand and honor those purposes. Individual and corporate purposes support one another in providential ways, allowing the staff to share the company's purpose and mission. Shared purpose is not just mining the gold in a business plan; it is mining the gold in the staff. As a Kingdom culture, your staff shares the corporate purpose, and you share the purpose in the hearts of each team member. This is true synergy at work.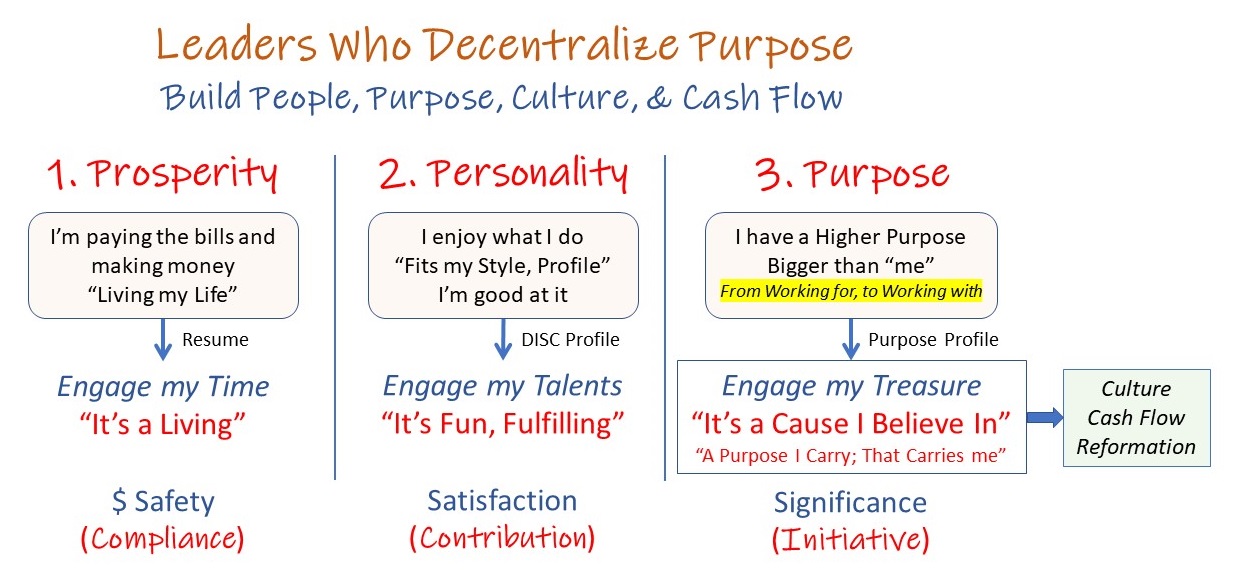 Implementing a Kingdom Culture – People show up for work for three reasons:
Prosperity – Everyone wants to pay the bills and live indoors. New hires need to feel confident they can meet job requirements. When mentoring, guiding, and training are successful, new employees thrive. Give them everything they need to shine, knowing that accountability is a temporary substitute for a credible purpose that motivates excellence, initiative, and creativity. Hold people accountable to have a compelling reason to contribute. Help new hires find their purpose!

Personality – As people acclimate to the corporate culture, they engage their unique personalities and talents in creative and fulfilling ways. Their contributions flow from who they are and how they are wired. Personality profiles like D.I.S.C. can facilitate that fit.

Purpose – The ultimate goal is to engage the staff at the level of shared purpose to release what God can do through them. Your staff represents treasures in earthen vessels, so honor what they carry. Purpose profiles (provided by us) uncover their core motivations in 1-on-1 conversations. As the business owner, you are the gatekeeper that releases their initiative to create opportunities and achieve a shared purpose. At this level of shared purpose, people come to work because it feels like a calling. Indeed, it is. People living their purpose is how Reformation happens.
What Does the Culture Feel Like? – Kingdom business cultures have a unique, unmistakable atmosphere, a vibe, momentum, and ambiance. It feels like excellence. They intentionally steward their business culture so that God's presence is there. People feel it, are drawn to it, and thrive in it.
Here's how we can create that culture:
Align your business to do what Father is doing – in a phrase, it's Intentional Reformation!

Intentionally scale Reformation in people, business, your city, and nation.

Acknowledge the source of the increase. God makes things grow. (1 Cor 3:6)

Welcome God's Spirit. Come Holy Spirit is our business anthem.
See what Father is seeing.
Say what Father is saying.
Do what Father is doing.
Love whom Father is loving.
What Does this look like? – Kingdom businesses have a winning purpose with a motivated team to make it happen. They create value and cash flow and do it all with excellence that flows from a compelling purpose.
Your business purpose is known, shared, prophetically alive, and practically fruitful.

Your staff has individual purpose profiles, their source of intrinsic motivation at work.

Your staff is an intentionally relational team. Wherever two or more are gathered is a business ecclesia of people sharing purpose, presence, creativity, and initiative. It's alive!

Your leadership team is bringing heaven to earth.
Kingdom Business Culture isn't a spiritual luxury item. It's the fastest way to scale business cash flow because your people are engaged in your success. Now it's our success! This culture of honor feels like love because you're seeing what people carry and placing value on their aspirations. Kingdom Business Culture naturally flows from purpose. It's the most effective way to implement corporate strategy and achieve success. We're all in the people business. We have an exciting Kingdom purpose and a staff with hearts engaged to make it happen.
Leaders Listen – People won't follow "you" wholeheartedly, even if you pay them. Our staff is wired to follow their Father's purpose. Leaders articulate Kingdom business purpose that originates in Father's heart. Heaven's why is what resonates and ignites our passion to pursue the business mission. Kingdom Leaders listen! They can hear hearts, not just words.

I can help you. Based on 20 years of experience, hundreds of coaches, and thousands of clients, 21 Silver Bullets are the most common coaching solutions for typical business needs. There are two places to start:
1) Glance at the Kingdom Business Coaching Intro.
2) Set up a conversation with John on Zoom or text at 509-308-6873.
Our contacts and materials are here linktr.ee/johnsgarfield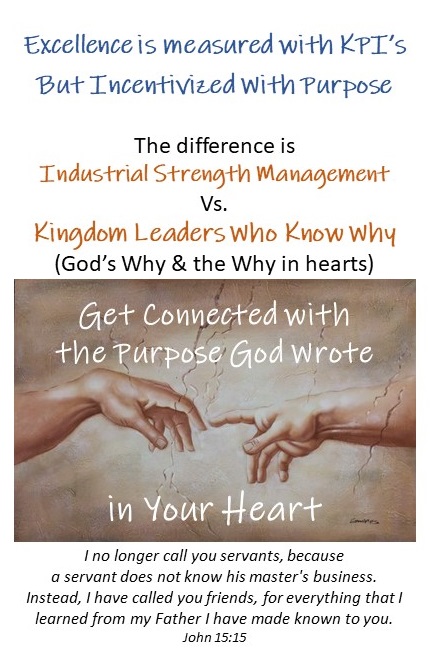 Cutting Room Floor
If you're going to lead people, the first hard thing you have to do is the hard work on yourself to figure out who you really are as a person so that I can lead authentically from my heart and who I am. If you don't do the hard work, people are following your ego, they're following your insecurities, they're following your fears.
You have to do that work on yourself so that you can be yourself, and you can't be yourself until you know yourself. What I just described is massively hard work. If you're going to lead people, you have to get the visions and the images and the thoughts out of your head on to paper, and then you have to bring them to life for the people who are following you.
-Andy McKay, Seattle Mariners, assistant general manager
People won't wholeheartedly follow me, my ego, or my recipe even if I pay them… or they pay me!
· They follow Kingdom purpose
· They follow their Father's voice
Key to kingdom leadership… hearing "their" purpose, the one God wrote in their heart. Leaders listen.
John Garfield JohnGarfieldConsulting.com
The Song of Significance by Seth Godin